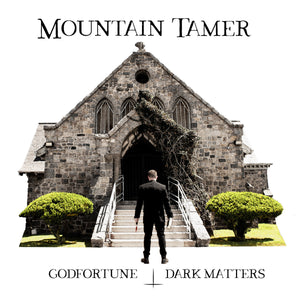 Hailing from the golden coasts of Los Angeles, heavy psych trio Mountain Tamer has been hypnotizing audiences for several years with their lysergic blend of stoner rock structures and psychedelic freakouts. Their lucid jams, swinging drums and angular yet timeless riffs have helped build momentum among fans and critics in anticipation of their new full-length album, Godfortune Dark Matters.
Formed in 2011 just outside San Francisco, Mountain Tamer found early success touring with acts like Dead Meadow, The Budos Band, and Weedeater.  After cutting their teeth on the road for a few years, they released their demo, MTNTMR, to the masses, a critical success that landed the band a deal with Argonauta Records.
Argonauta released Mountain Tamer's self-titled debut album, which was lauded by the underground metal press.
Their growing notoriety found the trio, composed of Andrew Hall (guitar/vocals), Casey Garcia (drums), and Dave Teget (bass), relocating to LA and opening for the likes of Nick Oliveri's Mondo Generator and other Cali-based scene stalwarts.
From their new vantage with Nasoni Records and Magnetic Eye Records, Mountain Tamer have their sights set on more touring and pushing their musical horizons with the release of Godfortune Dark Matters, a strutting, garage-tinged groove-fest that delivers on the promise of everything they've put forth.
"Soaring through the dunes one moment then imploding the psyche the next before crawling along the sunburnt ground of Death Valley – it is that intense." – 
"The three-piece carve out their niche somewhere between lurching grunge and heavy psych freakouts… their style is more intense overall than a lot of the chilled-to-the-max guitar-heroics of the post-Earthless set, but not necessarily born of wildly different influences in classic heavy rock, punk and desert jams." – The Obelisk
"A palpable journey through groovy, low-key sludge… taking a page from the earlier books of bands like the Melvins and creating a strong groove to drive the sludge." – Metal Assault
Godfortune Dark Matters releases digitally on Magnetic Eye Records on August 24th.  Vinyl edition to follow via the fine folks at Nasoni Records