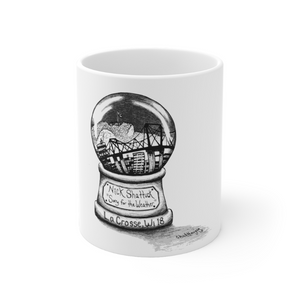 "Written in the cabin of a snow covered boat in a frozen little marina on the back waters of the Mississippi River in mid April, "Sorry for the Weather" is Wisconsin born, L.A. based Singer-Songwriter, Nick Shattuck's, apology to his friends and family for it always snowing whenever he comes home. "

Buy a "Sorry for the Weather" hoodie or coffee mug during the month of January and February and feel warm on both the OUTSIDE and INSIDE knowing that Nick's portion of the proceeds will go directly to the La Crosse, WI, Salvation Army to help keep those in need warm as well this Winter! 
Perfect for coffee, tea and hot chocolate, this classic shape white, durable ceramic mug in the most popular sizes - 11 oz. and 15oz. High quality sublimation printing makes it an appreciated gift to every true hot beverage lover.
.: White ceramic
.: 11 oz. (0.33 l) and 15 oz. (0.44 l)
.: Rounded corners
.: C-handle